Gold Award Winner 2014 Literary Classics Book Awards, Pre-Teen Fantasy
Children's Literary Classics Seal of Approval
Finalist 2014 National Indie Excellence Awards, Pre-Teen Fiction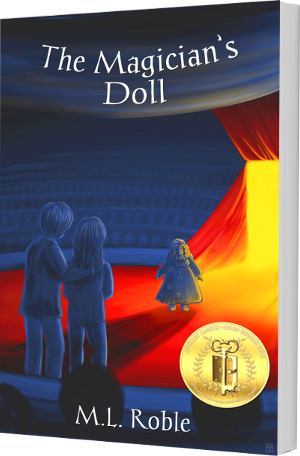 Twelve-year-old Natalie has a lot to handle this school year, what with the bullies and the sudden development of her rather unusual abilities. But a circus is approaching, a storm is brewing, and with them comes the arrival of Beausoleil the Magician, his daughter, Louisa, his mysterious doll, and Natalie's biggest challenge yet…
The Magician's Doll sparks readers' imaginations with a tale of magical discoveries, profound friendships, a fight against evil, and the growth that comes with facing your fears and accepting who you are. Read an excerpt here!
For information about Book Two of The Hidden Gifted Series, The Worlds Traveler, visit its page here!
Praise for The Magician's Doll!
"The story of exceptional and gifted beings secretly living among us is timeless. This exhilarating book is an impressive treatment of that classic storyline." ~ San Francisco Book Review
"Subtle references to life messages that teach positive values to young readers are an added bonus to this book which comes highly recommended." ~ Literary Classics Book Reviews
Availability
Paperback available through several retailers including Amazon, Barnes and Noble, and independent booksellers like Town House Books and The Book Bin. Check IndieBound for an independent bookstore near you. The Magician's Doll is listed on its site here.
Ebook available at most retailers including: Amazon, Barnes and Noble, Smashwords, Kobo, Itunes, and through subscription on Scribd. (Update: As of 6/28/2016, ebook version available on Amazon and its Kindle Unlimited program.)
Another great option would be to put in  a request with your local public library to purchase the book for its collection.
Links to my catalog at various retailers can be found on my 'My Books' page.
If you'd like to receive an email announcing the release of the next book, sign up via my contact page here.